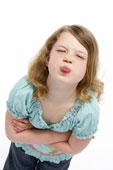 Conquering the Gag Reflex !!
Conquering the Gag Reflex !!
Some patients have difficulty in the dentist's office because of a gag reflex. This can be an uncomfortable feeling sometimes caused by stimulation (as by touch) of the soft palette in the mouth. If this happens to you, there are things you can do and things we can do in the office to conquer this.
1. First and foremost, if you know that this a problem you have, please inform our staff at your appointment so we can be mindful of it.
2. We may instruct you to concentrate breathing through your nose and to lift both legs if you feel the gag reflex beginning. Doing this will tighten your tummy muscles which will help ease the reflex.
3. We can also try a throat spray with numbing action, such as the over-the-counter Vicks Ultra Chloraseptic Spray, nasal congestant, or Breath Right snore relief spray.
4. How about a quick home remedy? Dip a moist finger into table salt and place it on the tip of your tongue!
5. Try humming! You can't hum and gag at the same time.
6. Sometimes, the gag reflex is caused by a sense of loss of control while you are in the dental chair. Remind yourself that you are in good hands and always feel free to ask our staff to take a break while you catch your breath.
Hopefully, these tips will help you feel more comfortable in the dental chair. We always strive to make your visit as comfortable