Building Confidence in Your Smile through Tooth Whitening
A person's smile is the first thing others notice and can say a lot, good or bad. Did you know whitening your smile is one of the least expensive and least invasive methods to strengthen your physical appearance? In the past, options for bleaching were limited to in office application and could leave you with a lighter wallet. Today there are several alternatives that fit into any lifestyle and budget. Here at Dr. Browne's practice, we believe in the number-one rated Opalescence Tooth Whitening System and its menu of premium whitening products.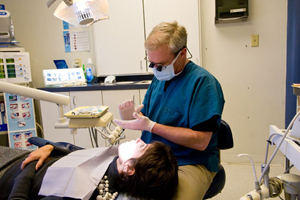 Many patients pick up a box of "strips" at the supermarket and end up disappointed in the results and deterred by the tooth sensitivity they feel after using them. Over-the-counter (OTC) whitening products are limited in their whitening effects because of the low concentration of hydrogen peroxide. Tréswhite Supreme is a superior alternative to OTC products because it has a prescription strength formula and is easier to use and is available at an affordable price. Because it is a part of the Opalescence Tooth Whitening System, the formula is manufactured with PF (potassium nitrate and fluoride) which alleviates tooth sensitivity and prevents cavities! It comes in disposable, easy-to-use preloaded trays. Simply place the tray in your mouth, adjust the inner tray, and wear for 30-60 minutes, once a day. For those of you who have restricted schedules, it is now available in 15 minute treatments. After only ten days, you'll be beaming with a brighter smile and the confidence you always knew you had inside!
For patients looking for more from their bleaching, Opalescence Take-Home System is a perfect fit. It is customized for your smile and your lifestyle. We begin with impressions of your teeth and then create customized trays that fit your mouth, perfectly and comfortably. After assuring a perfect fit, we provide you with syringes of prescription strength Opalescence PF gel and instructions on how to use and wear your unique trays. Within the first few days, you'll begin to see the difference in your smile and everyone around you will too!
What if you are interested in a brighter smile, and quick? Opalescence Xtra Boost is a powerful whitening procedure that will have you walking out our door with a radiant smile in as little as two hours! The Xtra Boost gel is chemically activated rather than light activated; meaning it is actively bleaching the moment it is placed on your teeth. We monitor your progress throughout the treatment. At the end of your appointment, we send you home with custom trays, which are made in advance, and syringes so you can continue your whitening maintenance.
As you can see, getting more confidence in your smile is a lot easier, and more affordable, than you may have thought. So if you have a big presentation coming up, wedding, or just want to enhance your appearance, give us a call and we'll make it happen!
Dental Wellness Plan
---
No Dental Insurance? NO PROBLEM!
Learn about your options through our Dental Wellness Plan