Could Dental Implants Be Right For Me
One of the most exciting advancements in dentistry involves replacing missing teeth through the use of Dental Implants. Even though a patient may strive very hard to maintain their natural teeth, occasions may arise when a patient loses one or more teeth. This may be the result of a traumatic injury to the mouth or from periodontal disease (Gum Disease) or even severe dental decay (cavities). Regardless of the cause, patients throughout Hampton Roads and especially Suffolk can now take advantage of implant therapy at Dr. Bowman R. Browne Family and Cosmetic Dentist and replace one or more missing teeth naturally, safely, and predictably.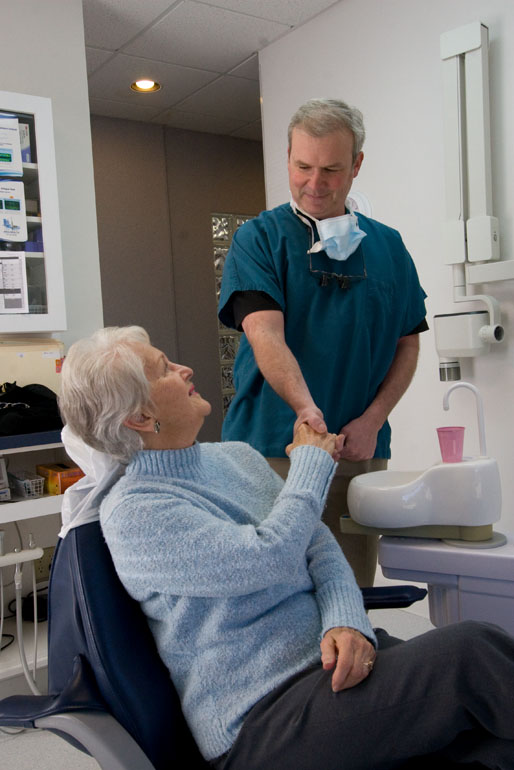 The Dental Implant procedure involves initially placing a titanium perforated cylinder into the bone. This can be done at the time of the extraction of a particular tooth or after the extracted tooth has sufficiently healed. Once the cylinder has been placed, the patient's bone grows through and around the cylinder to anchor it into place. A few months later, a small post is screwed into the cylinder. This post extends out of the gum and will support a Crown which is cemented in place. The final result is a truly natural looking and functioning tooth.
Dr. Browne Family and Cosmetic Dentist uses implants to support single crowns and complex fixed bridges. Many of Dr. Browne's patients have been amazed that dental implants could actually improve the fit and comfort of their full and /or partial dentures. Patients no longer have to rely on denture adhesives such as Poly Grip to secure their dentures. Dental Implants can also be an invaluable solution to the embarrassing predicaments caused by painful or ill-fitting partial or complete dentures.
With the proper placement of two to four dental implants in the upper arch of the mouth and two to four dental implants in the lower arch, dentures can be fabricated and worn completely comfortably and securely with no concern that they may become dislodged at an inappropriate time!
Dental Implants can also improve the way a patient eats! Implant supported dentures provide the patient with far better chewing capabilities than traditional dentures. Our patients also realize that they have regained the ability to taste food again because our Dental Implants do not need to have the bulky and uncomfortable acrylic which covers the roof or palette of their mouth.
So, whether your desire is to restore your beautiful smile, replace your important chewing molars, or more importantly, eliminate the fear and embarrassment of painful, ill-fitting dentures; Dental Implants may be the solution you seek! We invite you to call Dr. Bowman R. Browne Family and Cosmetic Dentist to get started today. We look forward to assisting you with your Dental Implants as well as all other Family and Cosmetic dental needs. Remember, visit our office and you will never be afraid of the dentist again!
Dental Wellness Plan
---
No Dental Insurance? NO PROBLEM!
Learn about your options through our Dental Wellness Plan